23 mai 2009
Nina k you Cosmetics Present -- A Special line from the Dead Sea
The Dead Sea region,the lowest place on earth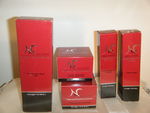 (410 meters below sea level).
Thousands of years for its high concentration of
minerals that inclucdes silica, Calcium, Magnesium,
Potassium, Sodium, Alumina, Bromide, and others.
Many studies have proved beyond all the efficacty
of these mineral.
Nina K You cosmetics is proud to present this
exceptional line based on concentration of
Minerals and salt from the Dead -Sea.
Regular use of Nina K You cosmetics will
enhance your skin's vitality, freshness,and flexibility.
Commentaires sur Nina K Y COSMETICS